Join us for the live webinar
With EEC's position as the prime gateway to Asia, enhanced by strategic location of Thailand and comprehensive infrastructure within the area. U-Tapao International Airport is positioned to become the 3rd international airport of Bangkok, serving up to 60 million passengers annually along with airfreight service, making the airport a home of robust, well-rounded aviation ecosystem of the region.

Eastern Economic Corridor Office of Thailand (EECO) is now developing the Aviation Technical Zone, as part of U-Tapao International Airport and Eastern Airport City development, to accommodate Maintenance, Repair and Overhaul (MRO) and support air transport related activities.

Since the sustainable growth of our partners is a primary goal in developing Aviation Technical Zone development. On behalf of EECO, we would like to invite you to attend the online market sounding event titled "Forging Comprehensive Aviation Ecosystem in Thailand" on the 7th of December 2021 at 13:00 - 15:30 ICT to share your thoughts and express your interests in extending your business operations to U-Tapao International Airport.
For more detail about EECO and ATZ
Speakers and Panelists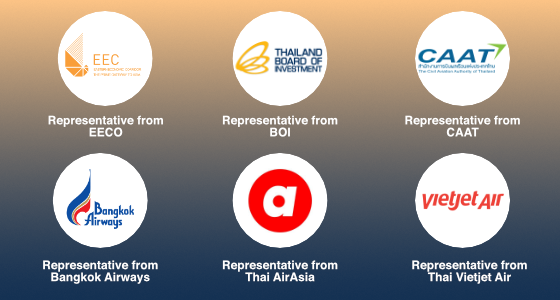 Agenda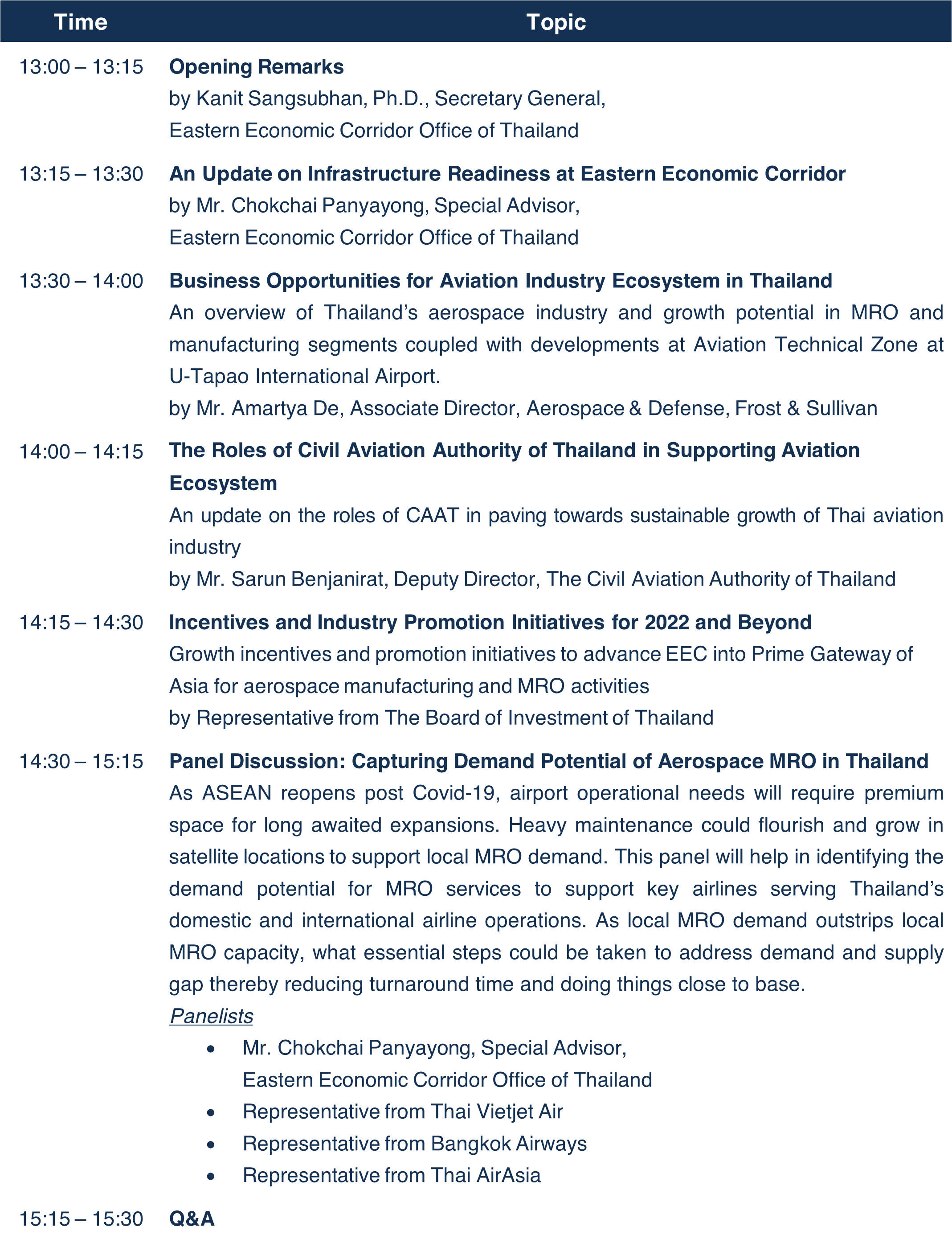 Key benefits of attending this webinar
Gain insight into the key aspects of aerospace industry, market forecast and trend, in Thailand and region.

Witness the opportunities of global aerospace companies in Thailand and opinion of key industry stakeholders that will shape the industry.

Understand the value proposition of Aviation Technical Zone at U-Tapao International airport, strategic advantage of Thailand, key phases of project development and available business models for companies to consider.

Overview of investment incentives, regulatory initiatives and other benefits offered to companies invested in Aviation Technical Zone at U-Tapao International airport.

Our expert panelists, drawn from the airline and EECO will discuss vital questions on opportunities of becoming the center aviation ecosystem of the region
Event Details
Date: Tuesday, December 07, 2021
Time: 13:00 - 15:30 ICT
Duration: 2.30 Hours
Venue: Online (link will be provided after registration)

For more information, please email us at events@to70.co.th
Disclaimer

This market sounding event is not a bidding process nor a pre-qualification exercise for the subsequent bidding for the Project. Note that information and views shared in this event will be kept confidential and will not be used for other purposes.